Health Canada warns that various unauthorized health products promoted for sexual enhancement are being sold and using them could pose several health risks.
A public advisory issued on March 21, states that various sexual enhancement products sold in Ontario and Quebec contain unauthorized drugs including tadalafil and sildenafil or have been tested and found to contain dangerous ingredients.
Mixing prescription drugs tadalafil (sold as Cialis in Canada) and sildenafil (sold under the brand name Viagara) with any type of nitrate medication can lead to dangerously low blood pressure, which may be life-threatening. Both substances can also have several adverse effects and may pose a risk to individuals with heart conditions.
Additional information on these products and ingredients can be found here.
Potentially hazardous products sold in Ontario indentified by Health Canada include 3800 Rock Hard, 7K, 7K Max Power, Black Panther, and Rhino 7 Platinum 5000.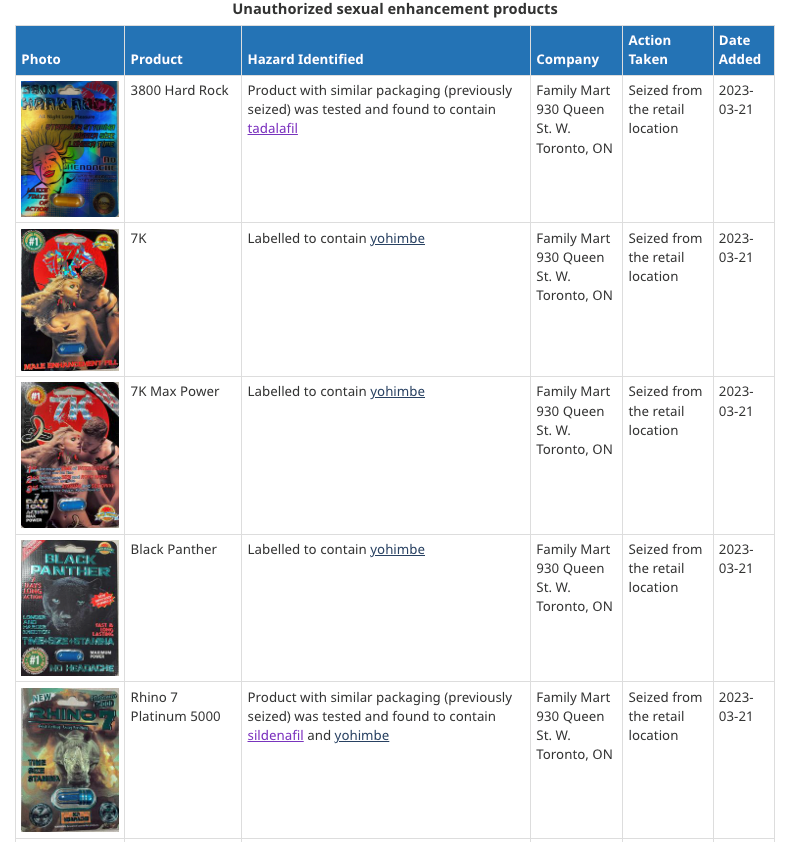 Buying unauthorized sexual enhancement products online, in stores, or out of country could pose a serious risk to your health and you should only buy products authorized for sale in Canada.
In Canada, any sexual enhancement product authorized for sale must have one of three identifiers: an eight-digit Drug Identification Number (DIN), a Natural Product Number (NPN), or a Homeopathic Drug Number (DIN-HM). Additionally, the product must include specific information on the label, including a list of all medicinal ingredients and their amounts, recommended use and dose, and appropriate health warnings.
What you should do
Stop using the products listed in the table. Consult your health care professional if you have used these products and have health concerns, and for advice on which health products are best for you and your family.
Read product labels to verify that health products have been authorized for sale by Health Canada. Authorized health products have an eight-digit Drug Identification Number (DIN), Natural Product Number (NPN) or Homeopathic Drug Number (DIN-HM). You can also check if products have been authorized for sale by searching Health Canada's Drug Product Database and Licensed Natural Health Product Database.
Report any health product adverse events or complaints to Health Canada.