Movie lovers, are you looking for a fun way to spend Saturdays with your family this April? Look no further because Cineplex Canada has an incredible deal for you.
Starting April 1st, participating Cineplex locations across Canada will be showing family movies for just $2.99 per ticket.
Cineplex Family Favourites provides a wonderful opportunity for the entire family to enjoy a family-friendly film together at an unbeatable price. A new film will be presented every Saturday throughout April at select theatres across Canada, with movie show times available the week before.
You can select from a variety of popular family movies that are guaranteed to captivate both kids and adults. From animated adventures to family classics, there's something for everyone.
During this promotion, you can catch some of the most popular family movies such as:
Saturday, April 1st: The Secret Life of Pets 2
Saturday, April 8th: Hop
Saturday, April 15th: Willy Wonka & The Chocolate Factory (4K Remaster)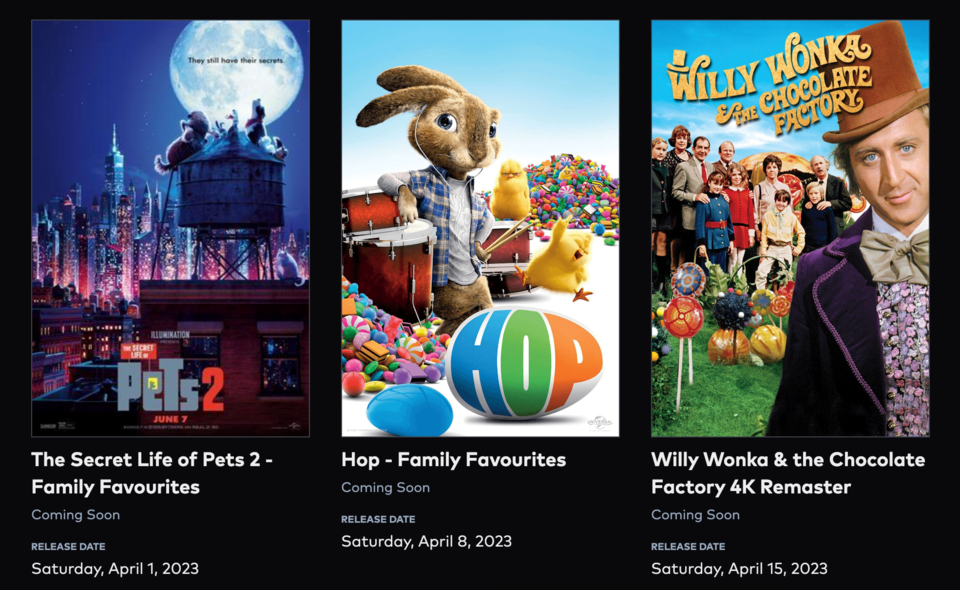 Gather your family and friends to take advantage of this incredible deal. Not only will you get to watch fantastic movies, but your little ones will also get to experience the thrill of watching them on the big screen.
We suggest contacting your local Cineplex location beforehand to confirm if it is participating in the Family Favourites promotion.
So, grab your popcorn and prepare for an unforgettable movie experience!