In the culinary world, not all olive oils are created equal. The terms "cold-pressed" and "first-pressed" have long been indicators of superior quality, emphasizing the meticulous production process that preserves the olive's natural flavours and nutritional benefits, but are also terms that are largely misunderstood.
Denise Sindle-Tucker, owner of the Olive Oil Co. Inc - In Barrie, Newmarket, Midland and Orillia, says she first became aware – and inspired – on trips through Spain, Italy and Greece.
It was there that she was introduced to some of the best extra virgin olive oils in the world, and decided to bring some of that liquid gold, and knowledge, back to Canada.
"I attended an Olive Oil Sommelier Course at the International Culinary Centre in New York City after deciding to open the first location in Barrie," Sindle-Tucker said. "I wanted to highlight delicious and all-natural olive oils and artisan Italian balsamics in a simple-to-use way that everybody could relate to."
"None of us need any more complicated recipes to follow," she said. "We just need quality ingredients and a little inspiration. That's what The Olive Oil Co. Inc. can help with!"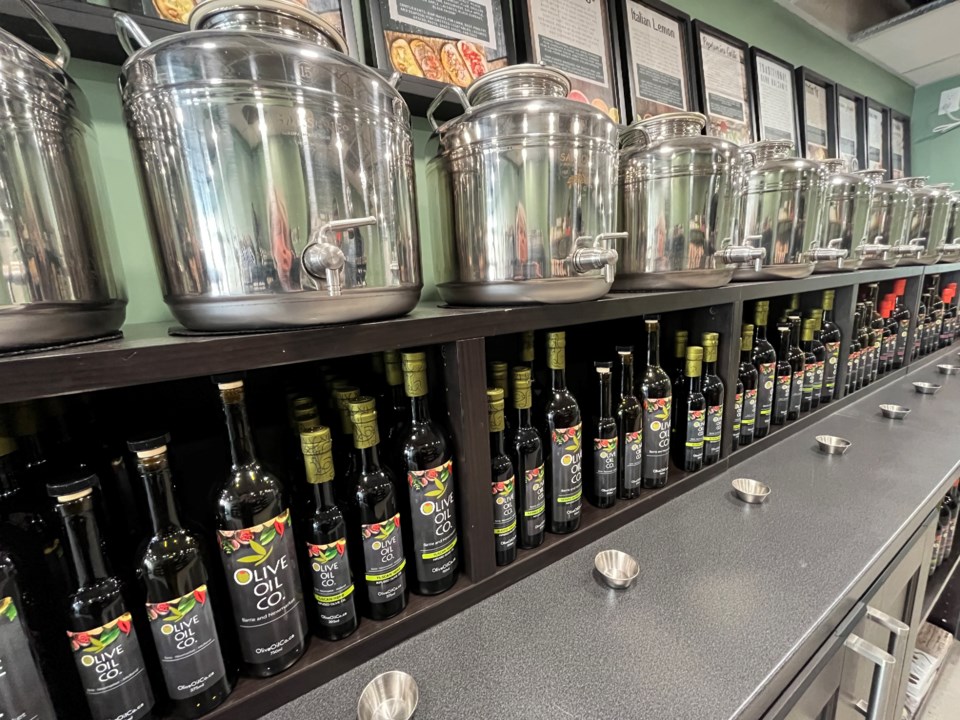 First, some basics about the processes.
Extra Virgin Olive Oil is made by crushing olives to extract their juices. The crushed olives are then pressed to separate the oil from the solids and water. Finally, the oil is separated and filtered to produce the pure extra virgin olive oil we use for cooking and other purposes. Cold-Pressed means that no heat or chemicals were used during extraction, preserving the oil's natural flavours and nutritional quality.
First-pressed means the olive oil was extracted in a single pressing, with no second pressing as in the case of some other oils, like seed oils.
But it all begins with the careful harvest of quality fresh olives, Sindle-Tucker says.
"After harvesting, these olives are gently washed, crushed into a paste, and processed through a centrifuge to separate the oil from water and solids within a several hours of being removed from the tree."
"The resulting oil is considered extra-virgin when it meets stringent quality standards, characterised by a low acidity level and exceptional flavour and aroma," she said.
High-quality extra-virgin olive oil boasts a complex flavour profile, making it a sought-after ingredient in kitchens worldwide. Its nuances can include a fresh and fruity aroma, hints of bitterness, a peppery finish, herbaceous notes, or even subtle nutty undertones.
"These flavours can vary based on olive varieties and the region of production," Sindle-Tucker said.
"Varieties like Arbequina, Coratina, Picual, Criolla, Leccino and Frantoio, for example, each carry unique flavour profiles and different levels of intensity," she said. "We import from both the Northern and Southern hemispheres. Countries in the North (Italy, Greece, Spain, Portugal, California) produce olive oil in the fall. Countries in the South (Peru, Chile, Australia, South Africa) produce in the spring."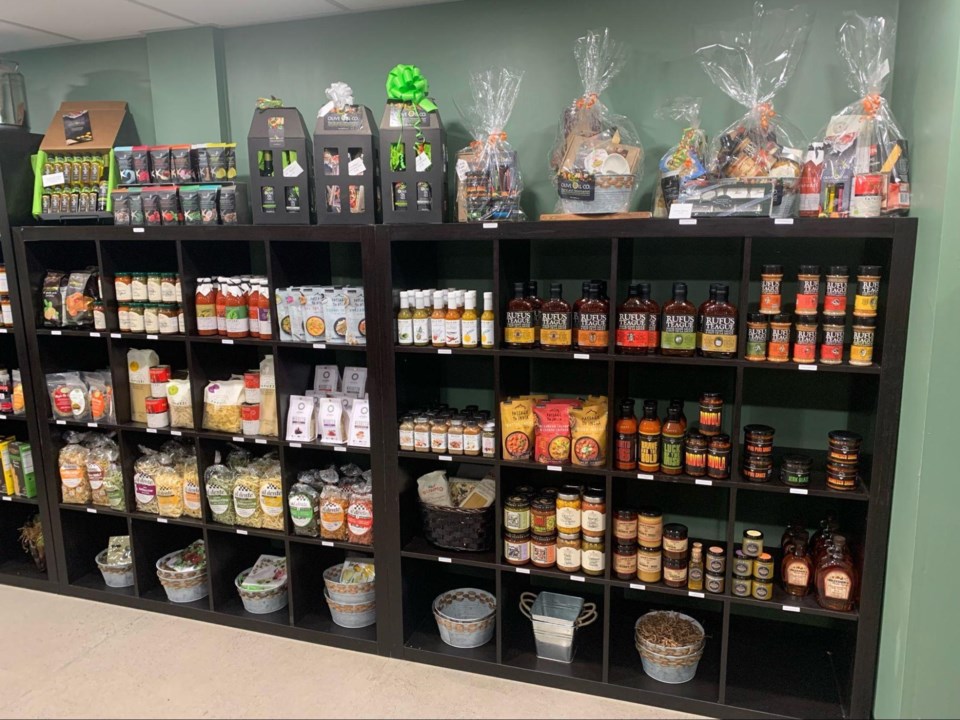 To ensure consumers receive only the finest, unadulterated olive oil, the International Olive Council (IOC) has set stringent standards. These include an acidity level below 0.8 per cent and a high polyphenol count, meaning the oil is made from fresh, high quality olives. A panel of trained tasters also conducts organoleptic evaluations, or taste profiles, before an olive oil is certified as extra virgin.
Sindle-Tucker assures customers that all the oils carried at The Olive Oil Co. Inc. are 100 per cent pure, without any adulteration with other oils or substances.
"There are many olive oils on the market that have not met our standards," Sindle-Tucker said. "It's important for consumers to find a source they can trust who can speak about each oil's production, characteristics and uses. And while it may be helpful to understand the process and the chemistry, it's so much more beneficial to have the opportunity to taste the difference between what you may be using now versus a superior quality product."
That's where the team at The Olive Oil Co. Inc. comes in. Staff is educated to represent every product on the shelf.
"We always have a full chemical and sensory analysis on every extra virgin olive oil we sell," Sindle-Tucker said, "and we'll encourage you to taste and smell before purchasing it."
"We also know exactly where the oil was harvested and encourage customers to taste before purchasing. And we can help customers have some fun creating their own oil and vinegar combinations for salad dressings, bread dipping and so much more!"
But at the end of the day, Sindle-Tucker says she just wants people to learn to appreciate the tastes and the many uses – not to mention the overall health benefits – of olive oil and balsamic vinegar.
"We would like customers to learn exactly what real balsamic vinegar and fresh extra virgin olive oil should taste like," Sindle-Tucker said. "and how both products can enhance their food and their health."
Olive Oil Co Inc. stores in Barrie, Newmarket, Midland and Orillia are a destination for gourmet food enthusiasts, offering exclusive local and artisanal products like real Italian Balsamic Vinegar as well as specialty food items and giftware that can't be easily found elsewhere.
The Olive Oil Co. Inc.'s Annual Customer Appreciation Day is Saturday October 28 10:00 am - 5:00 pm at all four locations in Barrie, Newmarket, Midland and Orillia.
The first 50 customers at each store will receive a free swag bag full of goodies. There will be in-store specials as well as sampling and door prizes and they will be previewing (and selling) many of their unique holiday gift sets.
For more information, sign up for the Olive Oil Co. Inc. monthly email newsletter by clicking here, and don't forget to follow the Olive Oil Co. Inc. on social media!