Get ready to sizzle, Canada! The Farmers' Almanac has just dropped its much-anticipated summer 2023 extended weather forecast, and things are looking hot.
The almanac, which has been the go-to source for weather predictions for over two centuries, is predicting a scorcher of a summer for our beloved country.
June 21 marks the official start of the summer season, and according to the Farmers' Almanac, we're in for a "warmer-than-normal" summer throughout most of the country.
For many regions, the heat will seem unrelenting, persisting from late June through early September. The forecast says temperatures may rise above 32°C, and in some areas, with some cases reaching as high as a sweltering 37°C.
But that's not all, factor in the oppressive humidity and heat indices ("feels like" temps) could approach 40°C in some areas.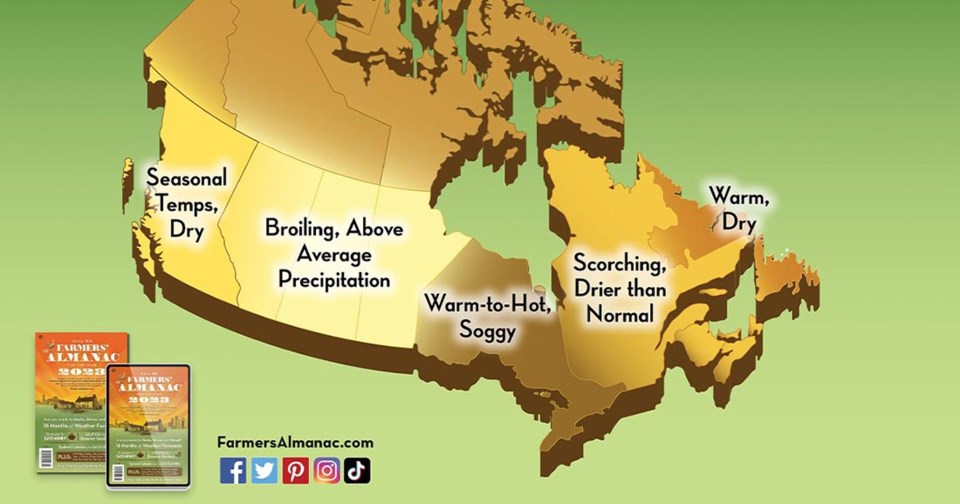 While British Columbia can expect to see seasonal temperatures, Alberta and other prairie provinces are in for a serious heatwave, with the Farmers' Almanac predicting "broiling" temperatures.
Over in Ontario, we're looking at warm-to-hot temperatures, while Quebec is joining Alberta in the hot seat, with "scorching" temperatures on the horizon.
When it comes to precipitation, get ready for some variety across the country. Central Canada can expect above-normal rainfall, while a swath covering parts of the Rockies, Prairies, and Great Lakes will see occasional bouts of heavy precipitation from showery rains and big thunderstorms.
On the flip side, Quebec and parts of the Maritimes should anticipate below-normal precipitation. And if you're in Newfoundland and Labrador, you can look forward to a generally warm and dry summer.
So grab your raincoats or shades, depending on where you are, and get ready for a memorable summer!