"Whether it's because they want to maintain their independence, or simply because they are comfortable in their own home, there are a variety of reasons older adults choose to age in place at home," said Harvey Dix, executive director of Memories+ Group in Newmarket.
Although many of today's retirement residences are beautiful, and can be like a cruise ship in that there are endless activities and ways to remain engaged, Dix said this lifestyle simply isn't for everybody.
"If you've spent your whole life in your own home that's where you're comfortable," he said. "A lot of people want to stay in their own home because that's their comfort zone. It could also be a large part of their independence, and we want to promote independence for older adults."
Memories+ Group provides private care for older adults.
It's comprised of two components: Home Healthcare Services and their Adult Day Program Centre
Their Home Healthcare Services provides nurse-managed support in a variety of areas, everything from companion care and home support, to personal care and a range of nursing services. They even do respite / live-in care. Dix said that over time they realized that while it's great that they could help people stay in their homes, they also didn't want to see their clients homebound.
"People need to get out and be engaged and this is why we started Memories+ Adult Program and Wellness Centre," he said. "We knew that many programs had wait lists and people were waiting for months, even years to get into a program and we thought it wasn't right, and wanted to do something."
Their Adult Day Program and Wellness Centre daily programming offers a variety of engaging opportunities including physical, mental and spiritual programs, as well as a variety of therapies such as arts and music. Like all of Memories+ services, their Adult Day Program is nurse case managed and the day program includes meaningful programs developed and presented by a Recreational Therapist. A Personal Support Worker is also always site to attend to people's needs.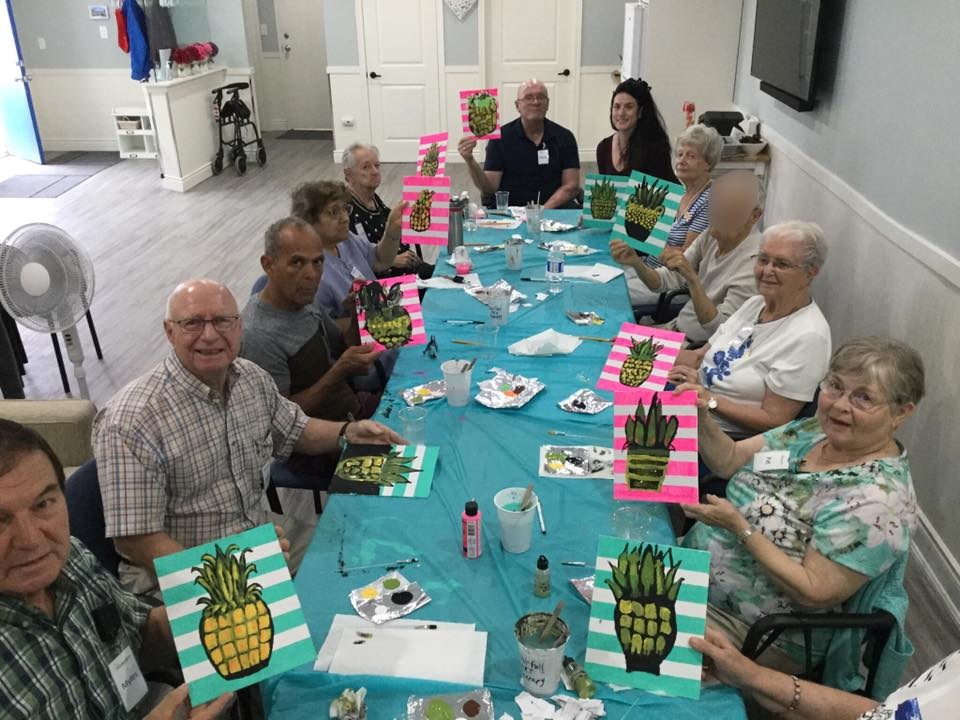 Memories+ Group prides themselves in being able to provide highly customized care to support each client's individualized needs. Dix said customization of services based on the client's preferences and needs is important because independence is also about giving mature adults the freedom to choose their own care. "It's all about providing options, we have a lot of clients who use both our in-home services for as well as the day program," he said.
Meaningful relationships and connections are important for the well-being of older adults
Now that we are coming out of Covid, Dix said they're excited to host live events again, and they're gearing up to host the first one this year called Enhancing Life and Relationships for Older Adults in the Community.
The goal of the event, he said, is to bring to light all the different resources available, and to learn about the variety of ways we can connect with the older adults in our lives, especially now since they've been secluded from their loved ones, and their greater community, for so long.
"With this event, we want people to get out and reconnect," he said. "People can get out of the house, come on out and connect with other people and find out what resources are available."
Whether you are an older adult, family caregiver or a healthcare professional, Dix encourages anyone who has any interest in enhancing the life of, or the relationships with, the older adults in their lives and communities, to attend.
"The event will include a variety of activities including Positive Approach to Care®, interactive stretching, Fit Minds® Cognitive Stimulation Therapy, Mindfulness Meditation, and much more. There's a lot of great stuff that we're bringing to this event, as well community partners that we feel are great resources for older adults," he said.
To learn more about Memories+ Group and this upcoming FREE event, which takes place June 9th from 10 a.m. to 3 p.m. at the Newmarket Old Town Hall, please go on their Events page https://memoriesplushhc.com/event to register or call 1-855-558-4798 to speak with one of their knowledgeable staff.