Imagine a job that pays over 30% above minimum wage, allows you to bring your young ones with you instead of paying for daycare, and gives you the chance to advance even further in your career. It's all possible with First Student, which is currently hiring part-time school bus drivers for their York Region location servicing Richmond Hill, Stouffville, Aurora to Vaughn and King City including Newmarket and Markham.
First Student is just one of the divisions belonging to First, North America's largest passenger transportation company. They offer drivers paid training, while also focusing on being an industry leader in technology and a leader in diversity and inclusion.
As an employer they strive to support the local community and their employees' success, ensuring the job not only gives drivers a sense of well-being but also supplies an invaluable service to the community.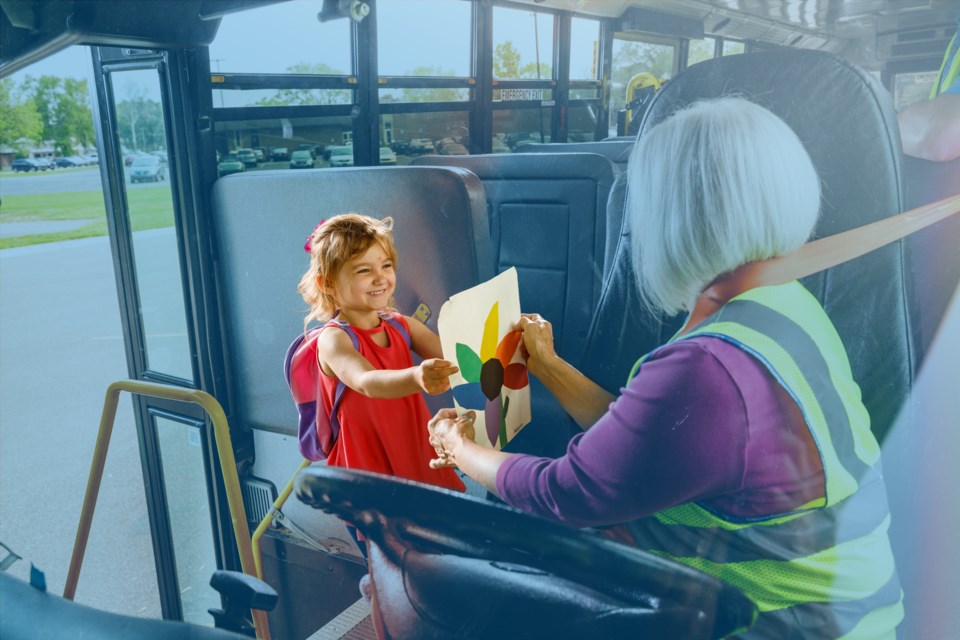 No experience is necessary to drive with First Student – in fact, they supply all the training needed for you to successfully acquire your school bus license (also known as a B-license).
Parents who drive a bus are allowed to bring their young children along for the ride, and the time between morning and afternoon runs means you'll have the freedom in your schedule to take care of errands, handle the grocery shopping, and make doctors' appointments. Plus, your calendar is the same as the school's calendar, and that means you get off all holidays and vacations.
The company pays $19.36 per hour, key to key.
Even if the thought of driving a school bus seems daunting, rest assured First Student's dedicated training staff provides drivers with all the knowledge and skills they'll need, from daily inspection to student management. Coming soon to their North Halton location is their ultramodern DriverHub tablet technology, which provides drivers with route information, insights on bus mechanics, and real-time coaching for peace of mind.
First Student recognizes drivers' well-being with improved vehicle options for greater comfort: Air-cushioned seats, automatic door opening systems, improved personal protective equipment, and more. The company also prioritizes employees' mental health by using the mental health platform Headversity, which is available to all 50,000+ First Student employees.
Working at First Student isn't only about driving a bus – the company is dedicated to creating a more just environment for both drivers and students. Their Diversity and Inclusion Council meets regularly to find new and impactful ways to promote diversity and inclusion in all areas of their day-to-day work. They believe it's essential to enable employees of all backgrounds to reach their full potential by encouraging a working environment inclusive to all, where team members are treated equally and fairly.
It's also about recognizing you, the driver – their Mobile Manager program recognizes their top-rated drivers and those who have shown great improvement. This, along with their Years of Service Awards and Safe Driving Recognition, are one of the many ways they value their employees.
When you work with First Student, you aren't just a bus driver; you're a part of a tight-knit group that fosters relationships, proudly supports the local community, ensures a safe and welcoming place for students as they begin and end their day, and works together to succeed safely.
If you're ready to make bus driving a reality, apply for a position at workatfirst.com.