Dear Nonie, I signed up for your Crash Course Keto webinar and have been trying to reduce the amount of carbs I eat. It's going good, I've lost 27 pounds and five inches from my middle without too much of an effort and my sleep and energy has got so much better. Generally I feel great but I'm eating the same things over and over. That makes it easy to follow but I'm starting to feel bored. I remember you said the secret was to get 10 new recipes you love and I am just starting to realize I should do that! I see a lot of keto dishes online that use crazy amounts of fat and cream cheese and I can't eat that much. I remember you saying the same of yourself so I wondered if you would have any inspiring recipes to share? I just need something new. I'm sure you've got a ton of ideas. Could you share some inspiration? — Lily
Dear Lily,
I'm pumped to hear of your success with my keto reset program. It's not for everyone but so many people benefit from it, especially as we age and don't have the same metabolic flexibility.
It's not really helpful to tell people what they shouldn't eat. It's kind of like, "Don't think of a pink elephant." What came to your mind immediately? The same is true if I were to simply say to you, "Don't eat sugar and grains." Well now everything you think of contains sugar and grains.
I think it's far more beneficial to focus on all the delicious foods we can eat and I try to capture this in my courses, and especially the cooking classes where we can all sample different foods.
I've been discouraged during the COVID-19 pandemic because I can't safely have cooking classes (which were my favourite part of my job), but I've figured out how to put them online as videos. For anyone who's interested, this will be on my Instagram feed (nonienutritionista) in the coming two weeks and my cooking classes are now live online (oxymoron, I know), with everyone cooking together from our kitchens and sharing stories (my favourite part). The trial run was great fun so I think it will be a blast for anyone who's interested.
So let's get inspired! Instead of responding with full recipes, I'm going to share some pictures from my kitchen with a little description. I will link to my website at the bottom that has a link with many of my recipes saved in an online recipe box for anyone to access.
A little caveat before you dive into my recipes: as anyone who knows me knows, I don't bake and I don't measure. Why? If you bake, you need to measure and see above.Too, if you bake you need to eat the baked goods, which I don't want to do. I come from a family of incredible bakers - my sister is a master baker - but I get sick on that food. And when I'm in a mood, I have zero control around it.
No lie: I once ate a whole cake in one sitting (it wasn't a little cake or a diet cake and it was for a pregnant relative) and my family will never let me forget it! So I reason it's best I don't bake.
And I don't measure. I mean, I sincerely try to for recipes, but they are more guesstimates. It makes me twitchy to follow directions - even my own. It takes the surprise out of things, and all the best recipes are actually happy accidents.
To follow directions I would also have to put my glasses on then take them off, then figure out where I put them and put them on again, repeat, repeat, repeat. Life is short. The glasses are never where I'm certain I put them. And more salt tastes better anyway.
So should you consult my recipes, use them as a guide and adjust the seasoning to your tastes as you go. That's actually the best way to follow any recipe, in my humble opinion.
The first picture is of an egg salad wrap I love! It's done in a collard leaf but you can also do romaine boats if collard leaves are too bitter for you. FYI we need more bitters in our diets, so this is one way to get it! I use collard greens for most of my wraps. You could do this one with egg salad, tuna salad, ham and cheese, salmon salad, smoked salmon and herbed cream cheese, or fajita toppings. The stem canbe tough so I cut the leaf before the part where the stem gets woody, or cut the stem out.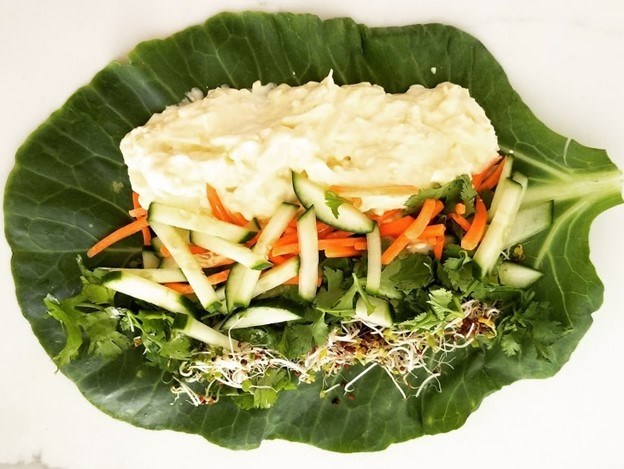 The next one is a low carb, white pasta sauce without flour or cheese. It has a little whipping cream and butter but not much, and you can omit this if you have a non dairy creamer you can use, with a bit of added sea salt and olive oil for the butter. I use a lot of veggies for mine - spinach, sweet peppers, onion, garlic, and mushrooms. And I use dried herbs. The flavour comes from bone broth, which is my base, and I thicken it by reducing it. I eat it over zucchini or shirataki noodles.
The next recipe is one of my favourites. It's the recipe of a friend of mine who is an excellent cook. She marinates the chicken in ginger garlic paste with yogurt (you can use coconut cream if you prefer), salt, pepper, and these spice mixes she gets from India. There are many variations available at Indian grocer's or at Centra in Aurora and they're all a little different, but each super fragrant and ranging in spiciness. The chicken is then broiled in the oven with a bit of olive oil to make it crisp on the outside but oh so tender inside. The result is super yummy! We eat this with a fresh salad and a yogurt chutney with onion, sea salt, and cucumber to be cooling beside the slightly spicy chicken. Super simple and super delish!
This next recipe is a simple Caprese salad I make when I have guests and don't have time to cook, or as a side to some nice BBQ meat. It's best when tomatoes are fresh in late summer. And don't buy the cheap mozzarella for this! I only use Saputo's mozzarella, and get it from Costco. There is no comparison between processed mozzarella cheese and this rubbery, stringy one. It's worth the few bucks more if you can afford it. If you don't have fresh basil leaves you can blend dried basil leaves into your olive oil and balsamic to drizzle over it. But fresh is truly the best!
This next recipe is super easy. I make it by slow cooking it in the oven with a dry rub, then braising with a homemade barbecue sauce that is made of a combo of fermented ketchup, liquid aminos, liquid smoke, raw apple cider vinegar. I use a homemade spice for the dry rub. I coat the pork side ribs then seal them in foil and let them slow cook for two hours at 300. After that I open the foil and turn the oven on broil and coat the ribs with the BBQ sauce. I put the ribs on the bottom rack and turn them and coat them several times. This makes them sticky with a bit of caramelization and the meat falls off the bone. They are savory, not sweet. I pair with roasted veggies and any fresh veggies I have on hand.
The next recipe is a barbecue lamb or pork chop (you can use either) with a broccoli stir fry topped with a bit of goat's cheese for extra flavour. The sweet pepper goes really well with the cheese. The chops are seasoned with a dry rub. I make my own homemade spices and have a class on that coming in December.
This next recipe is a beef striploin steak dinner, with some sweet corn. To keep carbs from being too high, I just eat half a cob with butter. I cook the steak again with a dry rub, so that the outside is seared and the inside is rather rare. I like it with an endive salad with toasted pepitas, soft goat cheese, and a light drizzle of balsamic and olive oil.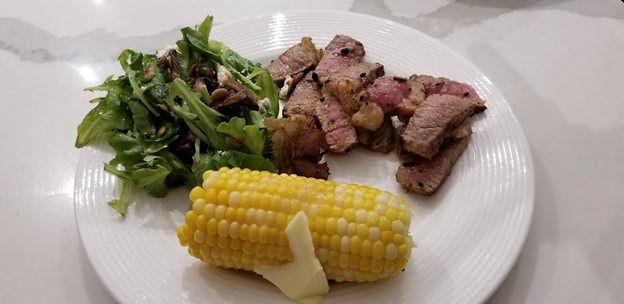 This next recipe is one of my go to dinner recipes, which I make a lot. I just absolutely love how fast and delicious it is. I purchase those frozen fish fillets (your choice, I like tilapia) and sautee that in olive oil and another one of my dry rubs. I then take a package of that pre-chopped coleslaw and some diced sweet pepper and avocado and toss that with a mixture of natural avocado oil mayonnaise, fresh squeezed lime juice, and a bit of olive oil and sea salt whisked together really well. So simple but incredibly tasty. The key to this is to season the fish well, so there's this balance between salt and lime. It's a zinger when you get it right!
Lastly, I will share a simple version of the traditional BLT I've come up with. This is one of my favourite brunch recipes but you could eat it anytime of day! I just use lettuce boats to do it. It's easy and just as satisfying! You could crumble the bacon or dice the tomatoes or add onion and herbs like bruschetta (hmmm, new idea coming on…), but sometimes you just want a BLT! For this one I just pick up the little lettuce leaves and curl them and eat them like little tacos! Super easy, super quick, super delish!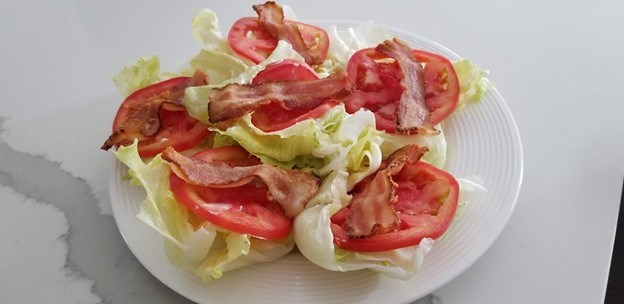 I generally put my food photos on my Instagram page, if readers are looking for more.
As always, if readers have their own health questions, I welcome them - just send me an email. And if you're looking for more specific health information or my recipe link, check out my website at askthenutritionist.ca. I provide 1:1 health coaching and several group classes, including 90 day resets and live online cooking classes. You can find these on my events page. Have a wonderful week!
Namaste!
Nonie Nutritionista