Dear Readers, this week's question comes from Karyn in Grand Falls, NB. Karyn wants to know some fresh recipes to use the abundant veggies she has grown in her garden. She'd like recipes that are interesting and tasty, while remaining healthy. In response, we're going to explore salads you probably have never tried and are anything but boring.
Radishes, Mint, and Cukes
These are some of the easiest crops to grow here in summers, and are often plentiful this time of year. It can be a challenge to use them all up. However, I have for you a few salads that call for these in really interesting combinations.
Concombre a La Menthe uses all these together in a simple but OMG-you-have-to-try-it-to believe-it way! Thinly sliced cukes and radishes are tossed with full fat yogurt and mint leaves, then sprinkled with sea salt and finely ground peppercorn. It's fresh and interesting and you don't need to sweat the prep on this one! Find the full recipe here.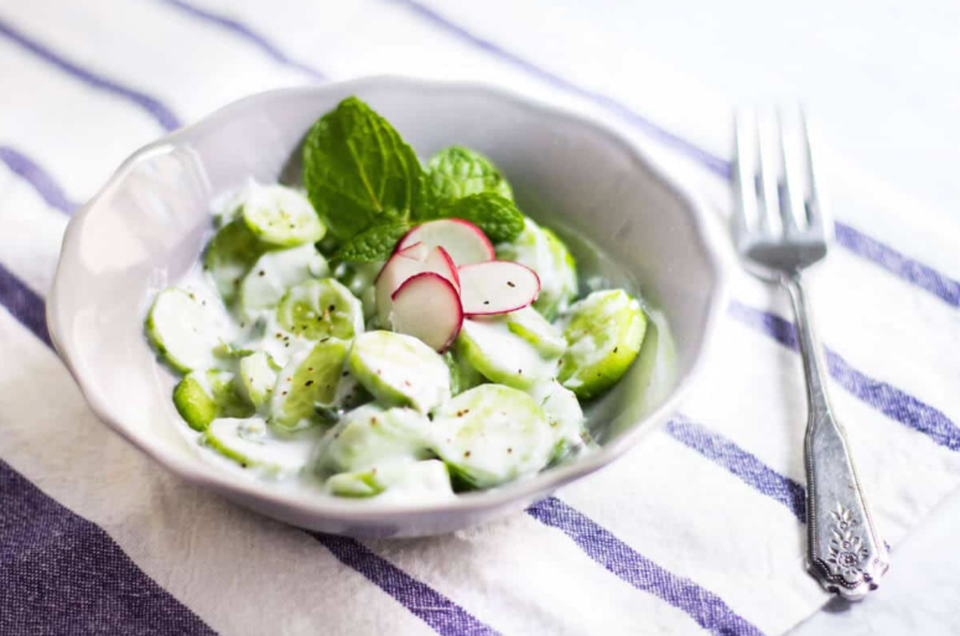 This watermelon, feta, and mint salad incorporates cucumbers, onions, and feta with a bright lime dressing for a combo that is bursting with flavour! It's great paired with BBQ. You can find the full recipe here.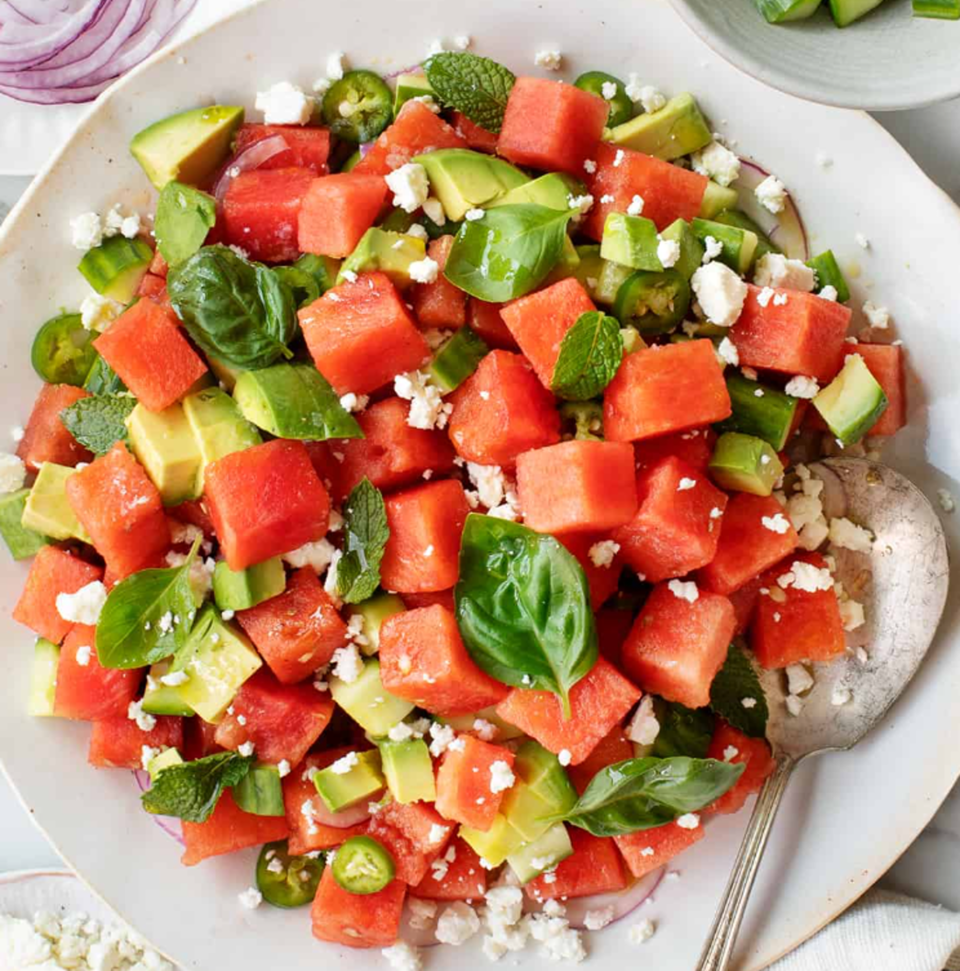 Tomatoes and Lettuces
These are also abundant this time of year, and make wonderful salad options. To highlight the tomatoes I chose a grilled halloumi salad. The fresh tomatoes make the taste of the grilled halloumi pop. If you haven't heard of it, halloumi is a firm, salty goat/ sheep cheese product that's common in Greek and Egyptian cuisines. Like curds, it's squeaky when uncooked. But grilled, as it is in this recipe, it rises to an entirely different level! The recipe pairs the grilled cheese with fresh cherry tomatoes, cucumbers, salad greens, olive oil, fresh herbs (I use basil for this one), garlic and lemon. Find the full recipe here.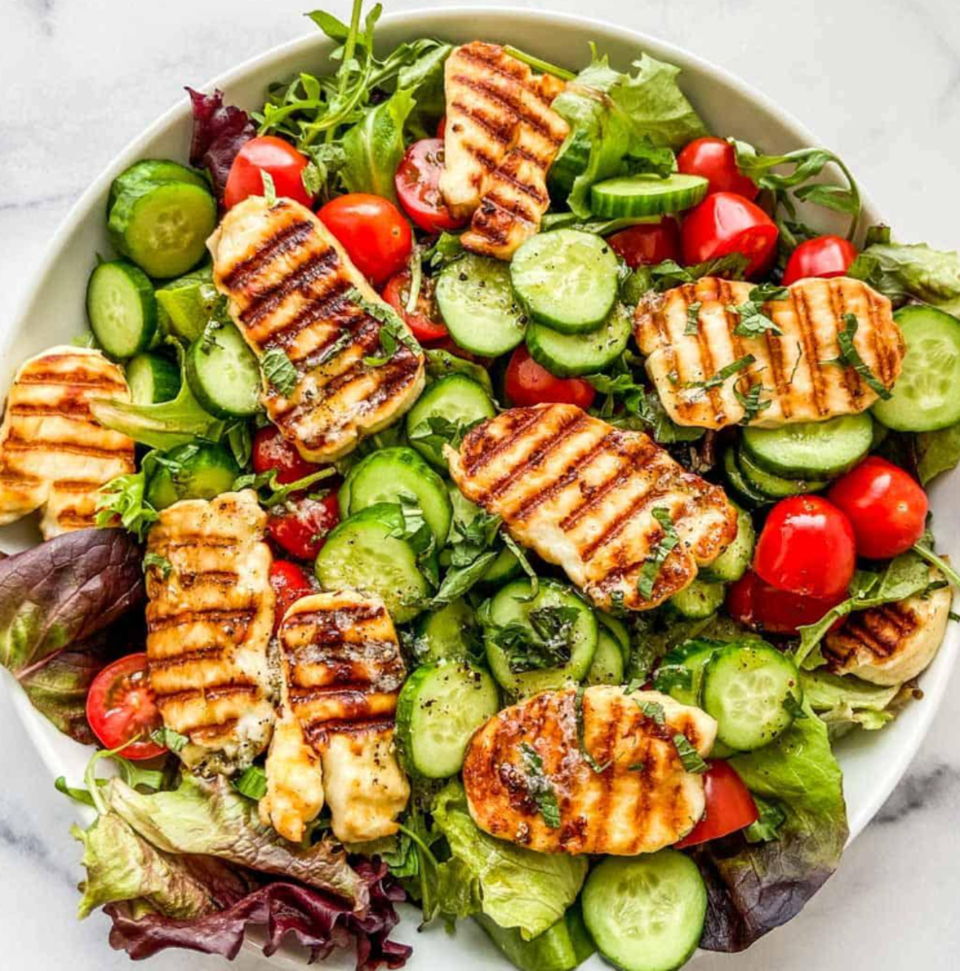 This spectacular endive salad uses apples and roasted walnuts to give you a nice balance of textures and tastes. While it looks fancy, it's a very easy recipe that uses condiments you'll have on hand for a delicious dressing to set it off. Find the full recipe here.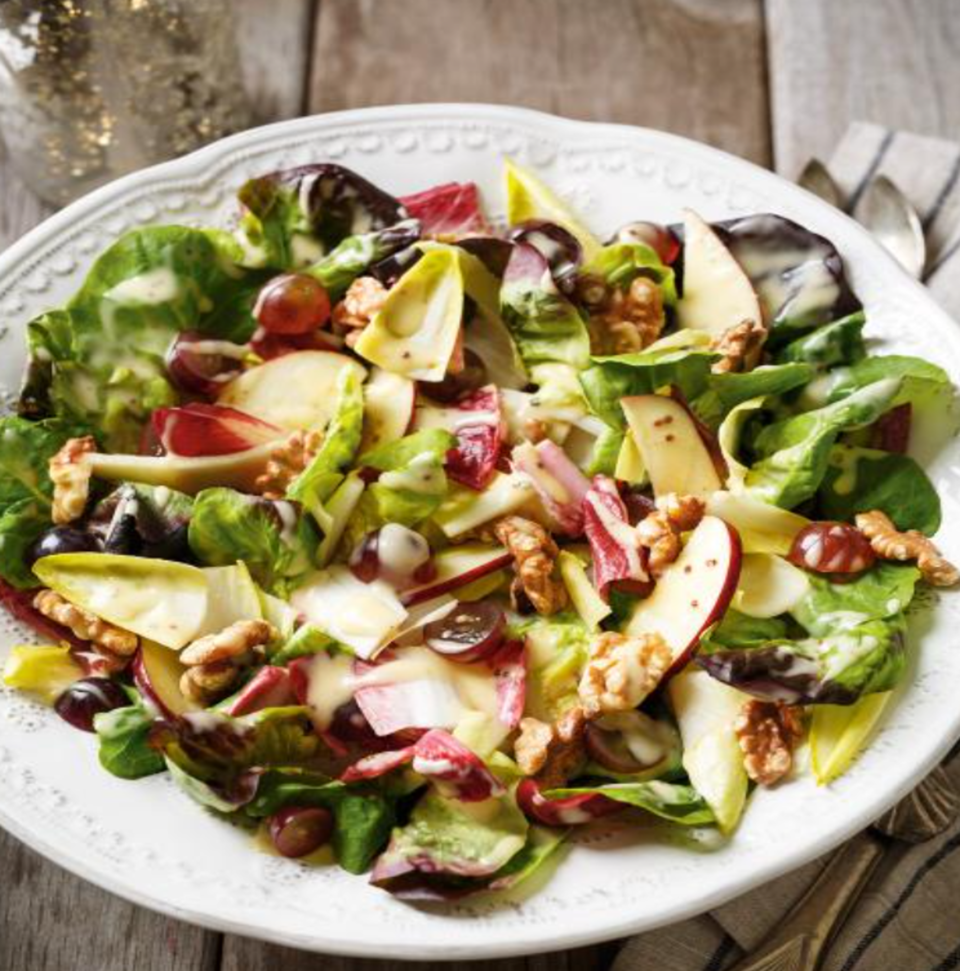 Kale, Chard, and Spinach
We can't talk about summer garden salads without mentioning these vibrant greens. Also, Karyn would kill me if I left them out, as her chard is taking over the garden! While it has more texture than spinach, when you cut the stem out you can use it the same in salads. Here are a few of my favourites.
This summer peach, spinach salad with avocado and toasted almonds is set off with creamy goat cheese. I confess, all of my favourite spinach or chard salads feature goat cheese! This one is delicious as a meal, as well, and is lovely enough to wow guests - especially if you can get your hands on some fresh, ripe peaches! Find the full recipe here.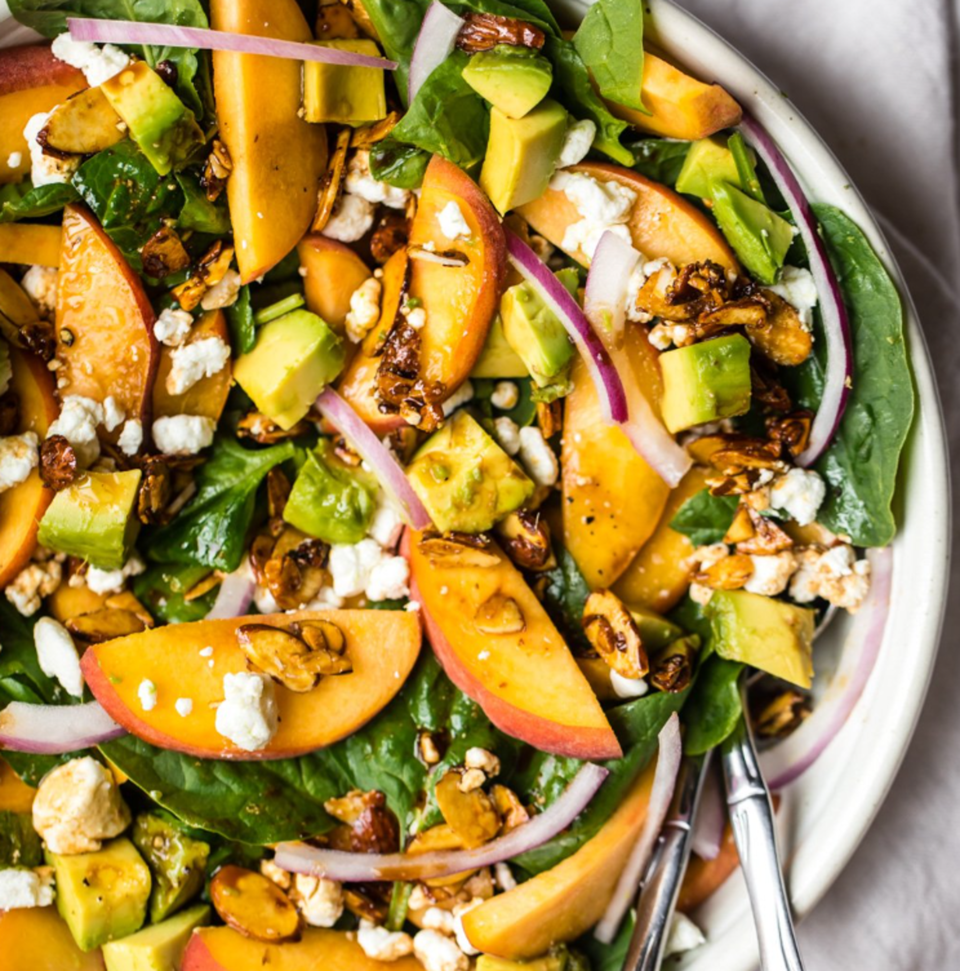 I am going to make everyone think I'm crazy by admitting this but I am addicted to kale salads. Something about the crispy, chewy texture satisfies me more than other greens. Kale yeah! This one is brimming with flavours. I substitute chicken breast for the toasted chickpeas but it can be a complete meal either way. Even looking at the photo you can see it's got a lot going on! The only other thing I change is I always toast my pumpkin seeds in a fry pan first. Once they pop the flavour is released and the texture is lighter and crisper. Try it and see for yourself. For the full recipe go here.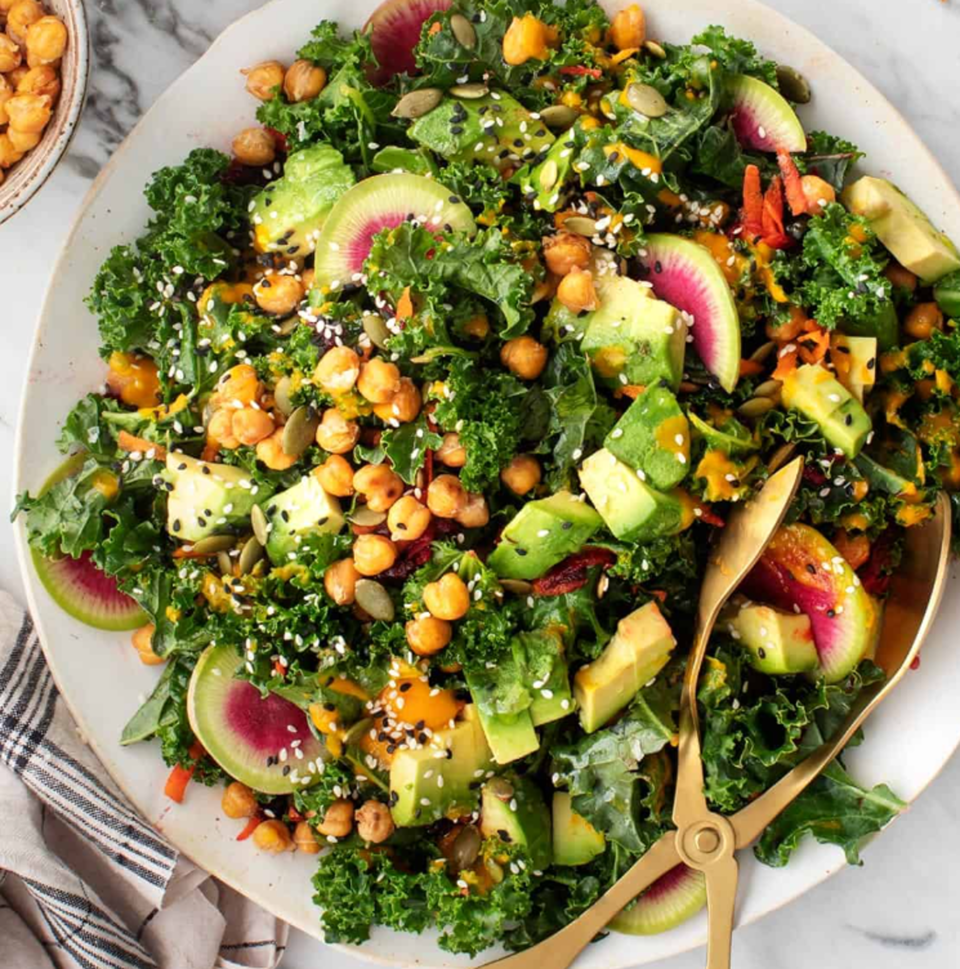 These are just some of the recipes I love to use up summer produce, but the blogs above feature a lot more. A salad a day is a great way to boost your health and load up on antioxidants, fibre, digestive enzymes, and vitamins you may otherwise not be getting. Adding some ripe fruit or honeyed nuts or a bit of sweetness to the dressing can help kids enjoy the salads more and expand their palate. They are also very easy prep and can accompany anything from BBQ to pizza. I challenge you to try a salad a day and see what the benefit is to your health! nAs always, if you have your own nutrition related question, send me an email at nonienutritionista@gmail.com. If you'd like to read more articles like this, you can find me at askthenutritionist.substack.com.
Namaste!
Nonie Nutritionista